Biblical Resources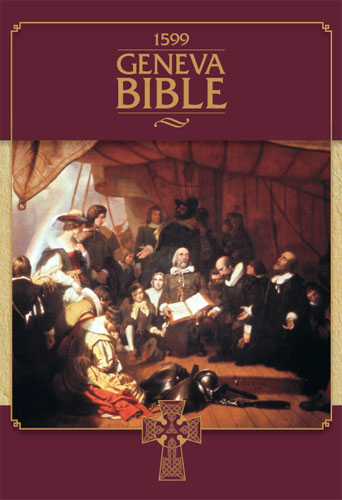 Left: 1599 Geneva Bible
Click for Hard copy of Geneva Bible with modern spelling
Click for the Original 1560 Geneva Bible

Below are some biblical resources that are scholarly written and uphold the Inerrancy of the Bible. Unfortunately, many so-called Christian resources are fluff and not very Biblical. Most Evangelical colleges and seminaries do not teach how to exegete the Scriptures--they use "eisegesis" to interpret the Bible instead of "exegesis." The so-called "inductive" Bible study has deceived many people into thinking what the text means to them--relating a text to your personal life is application, not interpretation. Application of a passage is subjective and personal. "Exegesis" of a text gives you the objective meaning of the passage and has nothing to do with your circumstances--the interpretation of Scripture should be based on the grammar, syntax, literary context, and cultural context of the passage in question.  This method of interpretation is objective and Biblical. "Be diligent to present yourself approved to God as a workman who does not need to be ashamed, handling accurately the word of Truth"  (II Tim. 2:15, NASB).
Commentaries
Church History
Text of Old & New Testament
Resources Exposing the Heretical Teachings of Natural Theology--it is sola scriptura vs. sola ratione.
     Political & Economic Thought/History From a Biblical View
Home Schooling

Picture: Frontispiece to Fireside Education by Samuel Griswold (Goodrich)
Free Bible Downloads on Android, Iphone, & Windows



Books and CD's from Dr. Robert A.Morey (President of Faith Defenders) listed below on important Biblical topics, especially for University or College students, such as A Christan Student's Survival Guide, The Biblical Discipleship Program for Women by Dr. Anne Morey (Dr. Bob's wife), etc. For Electronic versions, see the following websites:
C. Dr. Morey's books can also be be purchased through Xulon Press
A Christian Student's Survival Guide (New Edition--10/21/16-- has color pictures in every chapter and has been expanded and the book has been reduced in dimensions (7.44 x 9.69), 384 pages).

Click for Larger Picture "A Christian Student's Survival Guide"--PDF

A Christian Student's Survival Guide--any student who studies this book will be able to intellectually refute the anti-biblical positions of even the smartest students and professors.

Dr. Robert A. Morey on the John Ankerberg Show --Dr. Bob covers many Biblical topics such as as "Is the New Testament Historically Reliable"? on the John Ankerberg Show that is offered on DVD by them.
The Encyclopedia of Practical Christianity by Dr. Robert A. Morey  (700 pages on almost every topic--a valuable resource).

The Trinity/Evidence & Issues by Dr. Robert A. Morey
The most detailed exegetical work on the Trinity--recommended by Dr. Gleason Archer & Dr. John Ankerberg.

Death and the Afterlife by Dr. Robert A. Morey
The most detailed exegetical work on eternal conscious punishment -recommended by Dr. Walter Martin. Tal Brooke, President of SCP , also wrote a recommendation for the book.
Spiritual Counterfeits Project (SCP)--great journals on refuting the New Age (Tal Brooke is a graduate of Princeton University and studied Hinduism under the great gurus of India.)
A Critique of Modern Youth Ministries by Christopher Schlect.

Hermeneutics--How to Interpret the Bible for all it's Worth by Dr. Robert A. Morey           
It explains how to interpret the Bible correctly--also, see free article on Hermeneutics.
Discipleship Handbook by Dr. Peter Hammond
Sacred Grammer by Dr. James Wilson Beaty (teach your children grammer from the Bible)
Hebrew for Christians--see different words for God.

BibleWorks-one can download free Greek and Hebrew Fonts for Microsoft or Macintosh word.

Conversion Chart for Greek and Hebrew (works in conjunction with BibleWorks above)--PDF